Ratings & Reviews

Whether you're a seasoned homeowner or someone who just purchased their first home, chances are you've already had your fair share of issues. There's nothing more frustrating than having to stress about things going wrong with your home, especially when it doesn't feel like you can diagnose or address the problem easily. You count on your home to keep you safe and protected, and having a working garage door is an important part of that protection. That's why DoReMi Garage Door prides itself on doing high-quality repairs and maintenance on your garage door. No matter how small or large the issue, we can always be counted on to come in and address the damage quickly and efficiently. No one wants to feel like their home is being left open and unprotected because of a faulty garage door, and it's even worse to have to worry about the damage that can be done to your garage door over time due to weather and moisture. With DoReMi Garage Door, you'll get a professional assessment of your garage door's issues, and a repair job that will strengthen your door for years to come.
About DoReMi Garage Door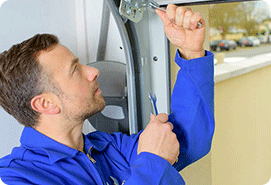 As experienced professionals in our industry, we've seen our share of garage door-related problems. That's what's helped us build our strength when it comes to our approach to repairs. When homeowners come to us with a problem, we're not interested in simply fixing the damage. We want to give homeowners the ability to know more about their garage door and become better prepared for any issues that might crop up in the future. Rather than simply doing our work and going on our way, we prioritize the spreading of knowledge, maintenance tips, and anything else that can empower a homeowner to do a great job at taking care of their property. That's how we've built up a clientele that trusts us to get the job done right every time. When you work with DoReMi Garage Door, you're working with experience, quality, and a seasoned approach to any garage door problems affecting your home.
Garage Doors 101
The first step to a healthy, long-lasting garage is to arm yourself with knowledge about the specifics of your garage door. Each door is different, with different features, materials, safety specs, strengths, and weaknesses. The more you know about your door, the better off you'll be when it comes to addressing an issue. When trying to figure out the best approach to any given problem, take into account the following factors.
What type of drive do I have?
Most garage doors operate in one of three ways. They either open on a chain drive, a screw drive, or a belt drive. If your door is a newer model, you most likely won't be dealing with a basic screw drive. If you have a chain drive, you'll know it by the loud, clanking sound your door makes as it opens. A belt drive, on the other hand, is smooth and silent. Knowing which type of drive your door uses will help you troubleshoot more efficiently.
What material is my door made of?
Whether your door is made of classic wood, steel, aluminum, vinyl or fiberglass, knowing exactly what material you're working with will go a long way towards figuring out how to safeguard your door against basic damage-related issues. For instance, if you're dealing with rusting or denting, knowing what material your door is made out of will help you protect your door's panels in the future while addressing the present damage.
How old is my door?
At first glance, it might not seem too important to know the make and model of your door, including the year it was made. However, when it comes to basic safety features, you always want to be aware of whether or not your door was manufactured after 1993. After January of 1993, new safety details were added into every door model, including safety reversal and the inclusion of cameras and sensors. If your door was manufactured before this time, you should strongly consider getting a new door model.
What are my door's specific safety features?
If you've installed a new door or door opener recently, chances are you'll be all up to date on your garage's new safety features. However, if you've just moved into a new home or simply haven't had the chance to update your door opener, you might not be aware of what your door does and does not protect against. Newer technologies that connect to your smartphone have the ability to not only protect your garage against intruders but to let you know about any suspicious activity via text alert.
Is my door attached to my home?
This is an easy one. While you already know whether or not your door is attached, you might not think about the implications of a door that does or does not lead directly to your home. For instance, if your door is a part of your home structure and you're dealing with temperature control issues, you might want to consider getting your door insulated. If you're worried about noise control and are already living in a noise-sensitive environment, you might want to consider switching drive types.
Is my door insulated?
If you're living in a mellow, predictable climate that lasts all year round, you might not be so focused on insulating your door for protection against the cold. However, if you're someone who struggles with a lot of mold, rust, or other weather-related damage in your garage, thinking about getting your door insulated is a great way to counteract warping and damage to the contents of your garage, not to mention your door opener itself.
Maintenance Tips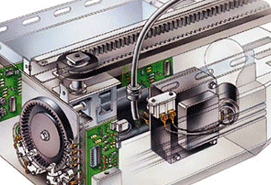 No matter what type of door you're working with, staying ahead of the curve by doing some basic maintenance is always a good idea. By following this checklist, you'll be pre-empting a lot of serious damage and saving yourself some money in repairs. For best results, make your own checklist tailored to the specifics of your garage door and break up tasks into weekly, monthly, and yearly columns. To get started, pay attention to the following.
Keep your gears, tracks, and parts lubricated
If you own a car or any other large machine, you'll already understand the importance of keeping parts well oiled throughout the year. If you hear any strange sounds coming from your garage door opener, always try to lubricate the area before anything else.
Manually test your garage door's balance
Your garage door's spring is responsible for keeping it balanced. Opening your door manually to check and make sure everything is balanced as it should be, will help you test for problems with your springs or cables.
Clean parts
As with anything, keeping a structure's parts clean is key to keeping it functioning smoothly and consistently. If you notice any issue with minor movable parts in your door opener, like rollers, try to give them a thorough clean before any further troubleshooting.
Do a basic visual check
Sometimes the damage to a garage door isn't obvious. It takes a few thorough checks to really assess the problem. That's why it's a great idea to get in the habit of doing a regular visual inspection on your door to make sure everything's where it should be. This will also give you a chance to familiarize yourself with the way things ought to look. That way, you'll be better able to notice problems on sight.
Replace worn-down gears and parts
Sometimes when you start to hear a grinding or squeaking sound as your door opens or closes, it's a simple case of needing more lubricant. Other times it's a more serious problem, like a worn out gear or other parts that need to be replaced. Replacing a small part for your door shouldn't be too hard, however, it can be hard to get the measurements right. Be sure to check with a professional before replacing a part to make sure you're actually addressing the problem.
Repair external damage
While it's always important to do a thorough check of the inside of your garage door, don't forget to check the outside as well. You never know what might be causing an issue. It could be something as simple as a dent or bump to one of your panels, or a bit of wear on the bottom bumper of your garage door.
Common Complaints
Keeping your door clean, well oiled, and thoroughly inspected is only half the battle. Even if you diligently keep tabs on your garage door throughout the year, there's still no guarantee that you won't eventually start running into problems. That's why we're here. If you're facing any of the following issues, feel free to give us a call and set up an appointment at any time.
-My garage door is closing too quickly or too slowly
-My door is making a strange sound and I can't identify the problem
-I want to upgrade my garage door opener, what's the best system to choose?
-How do I make my garage door more secure?
-My garage door is too noisy, how do I switch drives?
-I can't open my garage door
-My garage door is out of balance
-One of my cables is fraying, how do I replace it?
-I'm having trouble figuring out the measurements to a specific part for my door
-Should I replace my garage door panel or have it repaired?
-My garage door keeps coming off its tracks
-I need to replace my rollers, what is the best type to buy?
-My garage door opener track is bent or damaged
-My spring is broken
-My garage door won't open automatically via sensor
-I'm having trouble with the security app for my garage door opener
-I can't figure out how to reset my garage door opener
-My garage door opener is rusty or damaged
FAQs
Whatever your question, we're here to help answer it. Whether you're curious about the cost of a repair or you simply need some help troubleshooting, we're here to guide you through your problem. Take a look at some of the questions below to see if your issue has already been addressed. If not, feel free to give us a call at any time.
When are you available to do repairs?
We are available five days a week and on weekends. We can also make our workers available during weeknights. When it comes to doing repairs, we will cater to your schedule.
How much will my repair cost?
It's hard for us to say how much any given repair will cost before seeing the damage firsthand. However, if you have questions about your repair and would like a quote, feel free to call us and describe the problem in detail.
Is there a service fee?
Yes. We charge a service fee of $25 on all repairs. However, if the full cost of your repair exceeds $100, we will waive our service fee.
Do you offer same day service?
Yes. Most of our repairs can be finished within the same day. We want to make your repair as painless as possible so that you can go right on with your life.
Where are you located?
We can be found at locations across Southern California.
Do you offer a warranty on jobs?
Yes we do. Each job comes with a guarantee of excellence as well as a warranty.
Do you offer consultations?
Yes. Whatever your problem, feel free to call us at any time to discuss it. We're here to offer help, guidance, and support, and to answer any additional questions you might have.
Contact Us
Making an appointment is easy. Whether you're looking for a repair job, a replacement part, or a simple consultation, DoReMi Garage Door is ready to make one of its experienced workers available to you at any time you find convenient. We are able to work with most garage door models on the market, and are able to finish most jobs within the same day. Our workers understand how important home security is to you, that's why we provide you with the kind of efficient, high-quality repairs that will allow you to rest easy knowing that your garage door is on the mend. We can be found at locations across Southern California and can be contacted at any time via phone or email.